This massive cake was gone in two days. It was that good.
I am normally the baker, not so much the eater. But after having tried one slice of this wonderfully summery cake, I immediately went back for seconds – and thirds…
This cake was borne, more than anything else, out of the "need" to procrastinate. Currently I am finishing a term paper and am struggling most days to find motivation to sit down and wrap my head around the issue ("US hegemony on the decline and China on the rise"). And even if I manage to sit down and write for a few hours, I definitely need some diversion every once in a while.
The recipe for this cake was developed on an evening on which I was definitely not happy with the amount and quality of the work I had done that day. In order to lighten my mood, I got a little creative with some recipes I had come across, wrote down a new recipe and then started baking.
And the result was amazing!
If you are looking for a moist, lemony cake that combines sweetness with just the right amount of tartness, this is a cake for you. It is easy to make, but the taste is delicate. All in all, it is a truly delicious cake.
I hope this cake brings you as much joy as it brought me.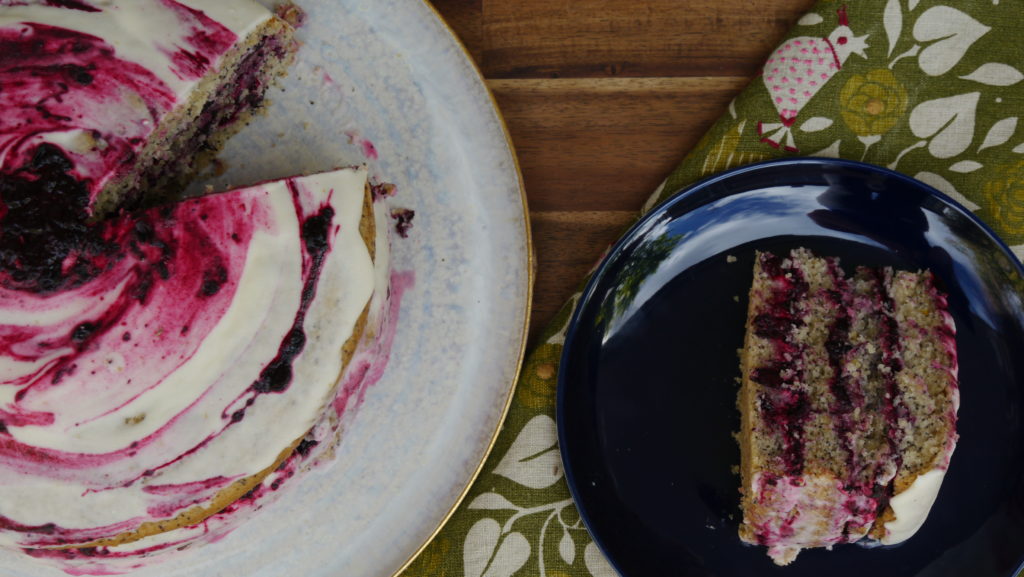 Summery Layered Lemon Poppy Seed Cake
Ingredients
Cake
280

ml

plant based milk

2

tsp

apple cider vinegar

550

grams

flour

32

grams

baking powder

250

grams

sugar

50

grams

vanilla sugar

50

grams

poppy seeds

about 4 tbsp

1

pinch of

salt

240

ml

canola oil

300

ml

sparkling water

3

tbsp

lemon zest

(about 3 lemons)

1

tsp

orange extract

optional
Blueberry and black currant jam
350

grams

black currants

frozen

200

grams

blueberries

frozen

6

tsp

cornstarch

6

tbsp

water

sugar

optional
Vegan cream cheese frosting
113

grams

vegan butter

room temperature

170

grams

vegan cream cheese

250-375

grams

powdered sugar

sifted

1

tsp

vanilla

2

tsp

lime zest
Instructions
Cake
Preheat the oven to 170°C.

Prepare two 23-26 cm round cake tins – line with parchment paper and grease the sides.

Mix plant based milk with apple cider vinegar and set aside.

Combine flour, baking powder, sugar, vanilla sugar, salt and poppy seeds in a mixing bowl.

Once the plant based milk has curdled, add the oil and sparkling water, and stir everything into the dry ingredients using a food processor or hand mixer.

Finally, add in the lemon zest and, if using, the orange extract.

Pour the finished batter into the prepared cake pans.

Place them in the middle of the preheated oven and bake for about 35 minutes.

Remove them if a skewer inserted in the middle of the cake comes out with a few crumbs only. Let them cool in the tins for a few minutes before transferring them on to wire racks to cool completely. Then halve each cake horizontally, so you have four cake layers.
Blueberry and black currant jam
Thaw the black currant and blueberries in a pot over medium to high heat. Stir occasionally and, once they have softened, mash the berries as much as desired.

Place cornstarch in a small bowl, add the water and stir until it is dissolved.

Once the berries are bubbling, pour the dissolved cornstarch into the pot. Bring everything to a simmer and cook for 1-2 minutes, stirring constantly. When it has thickened set it aside and let it cool.
Vegan Cream Cheese Frosting
In a large bowl, combine the soft butter and cream cheese. With an electric mixer beat the ingredients until smooth. Then incorporate the vanilla and lime zest.

Bit by bit add in the powdered sugar, mixing on low speed. If the frosting is still rather runny, place it in the freezer for 15 minutes. Afterwards it should be spreadable.
Assembling the cake
Place the first cake layer on your serving platter, spread one fourth of the frosting over it, then spread one fourth of the jam on top of that.

Reapeat with all other layers.

Decorate the top layer however you desire and spread any leftover frosting on the cake's outside.
Notes
Check if both cake tins fit onto the middle rack of the oven next to each other. If not, you might want to make the batter in two rounds. I could not fit both tins in simultaneously, so I divded the recipe by two, made the batter and once the first cake was out of the oven prepared the second cake.