What a wonderful recipe to kick off this new project of mine.
These muffins are without a doubt as delicious as the name suggests. And they are so easy to make that even within the busiest of weeks there always seems to be enough time to make a batch.
And this will definitely make any busy week better!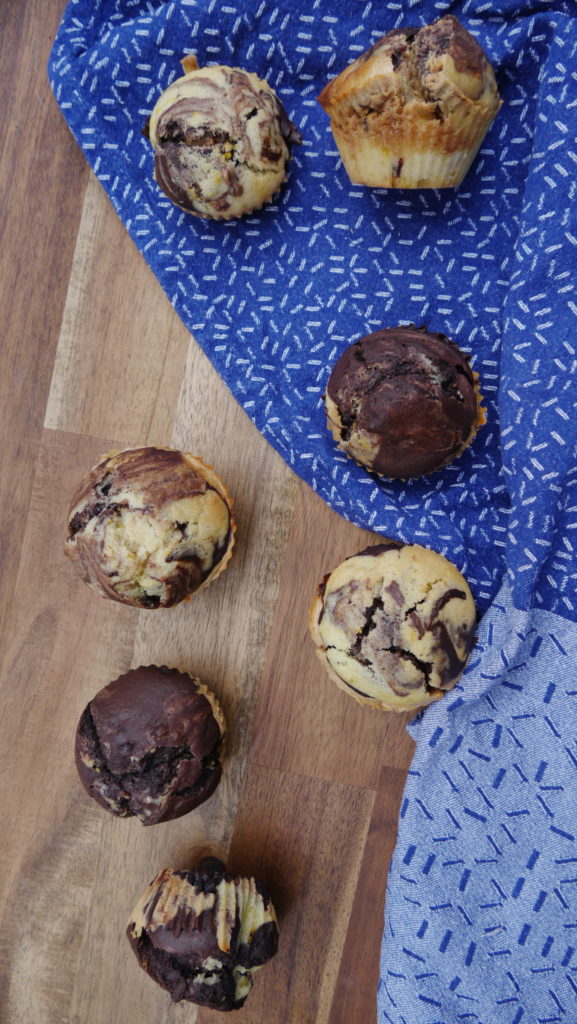 Marbled Peanut Butter Muffins
Ingredients
240

gr

flour

120

gr

sugar

1

tsp

bicarbonate of soda

80

ml

oil

160

ml

sparkling water

(plus some extra)

1

tsp

carob gum powder

(heaped tsp)

30

ml

water

1

tsp

apple cider vinegar

0.5

lemon

zest of

3

tbsp

cocoa powder

1

tbsp

peanut butter

heaped

2-3

tbsp

plant based milk
Notes
Preheat the oven to 160°C (fan setting).
Mix flour, sugar, vanilla sugar and bicarbonate of soda in one bowl.
Now add the oil and sparkling water – whisk briskly to avoid lumps from forming.
In a separate bowl mix the carob gum powder and water (you can also try the recipe with a different vegan egg subsitute. But I have only tried it with carob gum powder, as it is my personal favourite) – quickly add this to the batter.
Finally, add the apple cider vinegar.
Now, divide the batter into two equal portions. Add the lemon zest to one and the cocoa powder to the other (you will need to add  some more sparkling water to keep the desired consistency. Use the lemon batter as an orientation for the desired consistency.)
Add one tbsp of the chocolate batter in each muffin cup, then one spoonful off the lemon batter in the middle of the first dollop. Continue in the same manner for another two/three times.
In a small bowl mix 1 big tbsp of your favourite peanut butter with about two to three tbsp of plant based milk until you get a creamy consistency. When the batter will only suffice for one last layer, add a dollop of the peanut butter mix on top of the muffins. Cover it with the last bit of batter.
Before setting the muffins in the oven, use a little toothpick or something similar to create a beautiful swirly/marbled pattern.
Bake the muffins for 20 minutes in the middle of the oven. Check whether they are baked by inserting a wodden skewer into one muffin. If it comes out wet, give the muffins another 4-6 minutes in the oven.
Notes:
This is a very versatile muffin recipe. You can be as creative with it as you want. I also used the basic batter recipe to make chocolate chip muffins and lemon blackcurrant muffins – and they turned out great!
As I am still new at this, please let me know whether the instructions are clear and sufficiently detailed.
And I would love to see a picture of how these muffins turned out for you.
— As you are probably the only person reading this, Celeste, these last two sentences are directly addressed to you : )