These are strange times, scary times.
Due to the Corona virus pandemic all our lives are changed. The change ranges from minor things like called off events and working from home or a long awaited and necessary holiday being cancelled, all the way to having to face the sudden loss of a loved one.
I hope that everyone reading this is healthy, coping with the current situation as best as they can and has all the necessary (mental, virtual) support.
Baking is my therapy
During the last 1-2 weeks I found myself baking even more cakes, sweets and bread than normal. Not because I suddenly had the time – in fact, my daily life hasn't been affected much by all the self-isolation measures we have taken – but because creating new recipes and trying new cakes is one of the main ways for me to relax and zone out a little.
And the product of one of these creative sessions in the kitchen is this wonderful cherry cheesecake. After a few "drier" or chocolate-y cakes it was time for something fresh and fruity. Especially, since spring has really taken off and we have been spending many hours basking in the sun on our balkony.
Some time ago I had found a plant based quark at a reduced price in a local store and when I saw it sitting there in my fridge last week, I knew it was perfect for my next cake.
So, if you feel a little down or overwhelmed or if you are just looking for a yummy slice of cake, look no further! This cake is like a short holiday from everything going on right now. If you love baking, you will love this cake because it has so many different layers, that will keep you busy in the kitchen while still being super simple to prepare. If you love the eating part more than then baking part, this cake is for you because the sweetness of the cherries is balanced wonderfully by the quark filling. And a streusel topping always makes a cake extra decadent, if you ask me.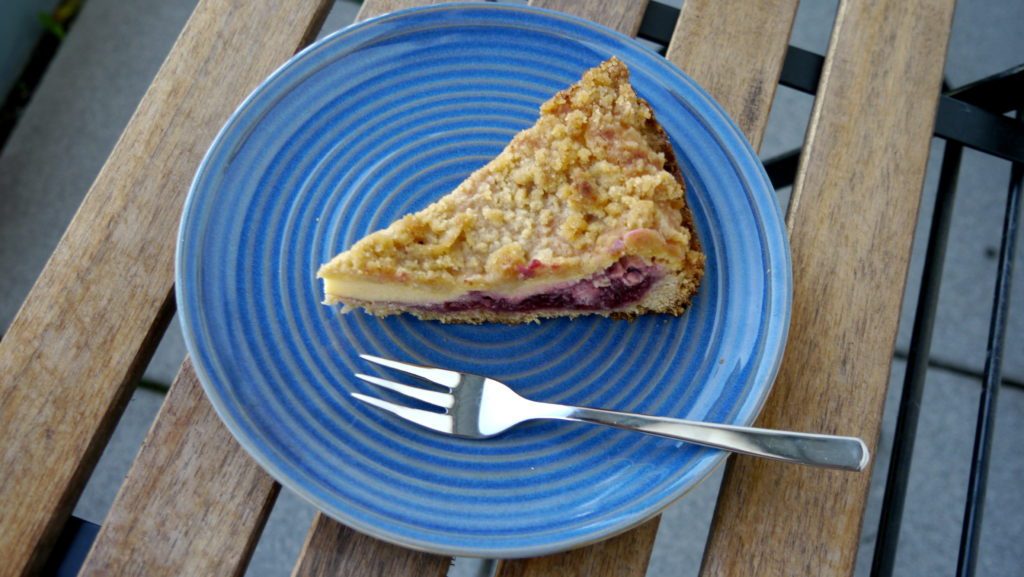 Cherry Cheesecake
Equipment
Cake pan (26 cm diameter)
Ingredients
Crust
250

gr

flour

1

tsp

baking powder

75

gr

sugar

1

package

vanilla sugar

1

pinch

salt

160

gr

margarine
Filling
1

glass

cherries

save juice

50

gr

margarine

1

lemon

juice and peel

400

gr

plant based quark

100

ml

plant based whipping cream

40

gr

sugar

1

package

vanilla pudding powder

1

tbsp

soy flour

2-4

tbsp

red jam

choose your favourite (cherry, raspberry, red currant…)
Streusel topping
80

gr

flour

50

gr

sugar

2

packages

vanilla sugar

50

gr

margarine
Instructions
Preheat the oven to 180°C.

Prepare the pan using parchment paper or coconut oil.
Crust
Mix flour, baking powder, sugar, vanilla sugar and salt in a big bowl. Then add the margarine.

Work everything until you have a soft dough.

You need to be able to form a ball. Maybe a ball that crumbles very easily, but a ball nonetheless. If it doesn't hold together, you can add a little bit of cold water – a teaspoon at a time.

Roll out the dough or straight away place it in the baking pan and push it so it covers the entire bottom of the pan and goes up the edges. Aim for sides about 3 cm high.

Prick the dough with a forck a few times.

Then place the crust in the oven and bake for 15 min.

Once the crust is done, take it out of the oven, letting it cool down slightly while you prepare the filling.
Filling
Over low heat, let the margarine melt in a small pot. Then remove it from the heat and add zest and juice of the lemon.

Combine plant based quark and cream in a mixing bowl. Slowly add sugar, vanilla pudding powder and soy flour.

At the end, add in the margarine-lemon mixture and mix everything until smooth.

Mix the jam with as much of the cherry juice as necessary to get a rather runny mixture.

Spread the mixture onto the crust.

Then cover the bottom of the crust with the drained cherries.

Pour quark filling evenly onto the cherries, smoothing out the top.
Streusel topping
Prepare the streusel by mixing all ingredients in a small bowl and start kneading them with your hands.

Sprinkle the crumbles over the entire cake.
The end!
Place the cake in the oven (middle rack or in lower half of the oven) and bake for about 50 minutes.

You will know it iis ready when the streusel have a nice golden/light brown colour and a skewer/toothpick comes out with almost none of the filling stuck to it.

Once it is done, leave it to cool on the oven rack for a while with the door of the oven open.

Then take the cake out of the pan and let it cool down completely on a cake rack (if you can find the disciplin and don't just want to dig in).
Notes
If you can't find plant based quark in the stores near you, you can make your own by straining plant based yoghurt. The night before you want to make the cake, fill the yoghurt in a sieve lined with either paper towels or a tea towel. I don't know the exact conversion rate, but from what I have read, I am guessing that around 600g of yoghurt will make abour 400g of quark. 
If the yoghurt still seems very liquid after 12 hours, let it sit some more or add more soy flour or else your filling will be too runny. 
If you don't have soy flour in the house you can use chickpea flour or probably also corn starch (though I can't give any guarantees as I have not tried this yet).